A Living Testimony

by Linda Laine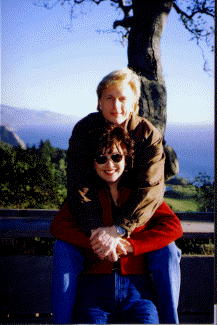 My husband and I had been looking forward to our time alone on the Hawaiian Islands. I prayed, with my whole heart, that the Lord would use me, use us, in whatever way He could to be a blessing. After all, I have been so dearly blessed of the Lord.
Managing our way to the West side of the island of Kauai, looking for sunshine and warm beaches, we drove until the road ended. This side of the island showed itself to be dry and desert like with warm winds and a lot of sand. Driving to one beach, barely making it through the sand, we decided to turn around and go back to the previous beach. As we turned, my husband decided to maneuver through a smooth patch of sand that only held us in our spot. We were stuck! Sand covering over half the tires and the underside of the car was wedged tightly against the deep sand bar.
He decides to get out and push and determines that I should drive the car out. The tires spin and burrow deeper into the sand. Suddenly a woman appears in my rear view mirror. With her, in a dirt stained fleece pouch, she carried a 4 month old infant. Running along side of her was her naked 4 year old daughter. The woman's hair was long and flowed with her long dress. Barefoot, with baby in tote, she begins to help Olli push the car out of the sand. The car only digs deeper.
She walks around to the driver side of the car and I get out to talk to her and see her baby. Contentedly, the child nurses her at mother's breast, her big blue eyes looking around. The child sees me and stops her afternoon meal to smile at me and even offer a laugh. Her mother was gracious in appearance and offered to find someone to pull us out of the sand.
Eventually we had a few people come and inspect the damage and they all offered advice on how we should get the car out. A shaggy looking fellow, of Hawaiian origin, offers the best advice. All get behind the car and push as I steer the car gingerly through the sand and back onto the road. Everyone wandered off leaving the young mother to say good-bye. She heads down the road with her children. As we drove past her I ask my husband to slow down. I roll down my window and yell, "Thank you," and with a strong urging in my spirit I add, "and God bless you!"
She turned every so gracefully and her smile broadened and she replied, "Thank you. Thank you so much. It was a blessing to meet you!"
We drove down to the next beach and carefully parked our car in a safe spot. It was getting late but we wanted to see the beach so we got out of the car and began to walk down the beach collecting sea shells. I thought about this woman... about the peace in her soul, the joy in her eyes and in her heart, there was a contentment and peace present that was indescribable. She had the peace and love of Christ in her soul and it shined through in her entire being. I remembered when I was once like that. Where did it go? I wondered.
Soon the woman meets us again. "I'm glad to see you got out of the sand. My children and I have been walking the beach all day. We walked down to the missile range and the police was there. They stopped us as they were roping off the area. They said they were getting ready for war games. Can you believe that? On Good Friday they're going to begin war games and it suppose to go through until Easter Sunday. I even asked the officer about that and he just shrugged his shoulders. Can you believe they are going to do war games from Good Friday until Easter Sunday?"
"Wow, that is really surprising. That's too bad," I said, rather distracted, as I watched her daughter running naked along the sand dune with a plastic grocery sack strapped around her shoulders like a back pack. I wondered if they had enough to eat. I thought of my spending money in my wallet and thought that I might go get it and give her all I had. After all, it was just my spending money, I could give it to them for groceries and easily do without a few tee-shirts and knick-knacks. "She doesn't need your money!" the Lord spoke firmly to my heart. "You would only insult her for she has no need of your money."
"We're going to the north shore tomorrow," she said.
"Oh really, that's where we are going." I wonder if she needs a ride, maybe I could bless her with a ride. "She doesn't need a ride from you," the Lord spoke again to my heart.
"Yeah, we're heading that way too and we're looking forward to it." Maybe they need a place to stay tonight. They gave us a two bedroom condo and so we have all this extra space... maybe I should offer them a place for the night. "She doesn't need you to give her shelter," I heard the Lord speak.
Her smile, her tone was ever so peaceful, truly a woman of virtue, content in her way of life. There must be something I can do for this woman and her children. The Lord speaks, "You have nothing she wants or needs. I am her source, I am her strength, I am her provider, I am her shelter."
"But Lord, I want to do something for her..... I am so blessed and I want to be a blessing!"
"She is content with her life, you have nothing to offer her. What you have means nothing to her... she's content in My love."
I shared a warm good-bye with this woman and her children as they head off down the beach. We walk to our car and I think. "Lord, maybe I could take them shopping. I could buy them a clean fleece carrier and by the children some clothes. That would be a good thing."
"That child does not realize she is naked," said the Lord, "If you took them home with you the child would become aware of her nakedness. You would expose her nakedness to her and change her life forever. You have nothing they want, nothing they need. You are basing their needs by your standards. You have nothing she wants, but she has everything you want. You have nothing to give her, but she has everything to give you."

Suddenly, I saw myself praying before I ever left my home. With my freshly cut hair, my designer bathing suits, and matching luggage. I saw myself in my big home and my swimming pool. I saw my refrigerator full and pantry overflowing. Safe in my environment, I gloat in my blessings. Then at once it hit me, who am I to boast? Who am I to think I have some "thing" or "things" to give. I give in my excess.... but this true lady, a lady of grace, a woman of virtue, would give me not of her leftovers, but of all she had.
This day the Lord taught me... with all I have, I have nothing. And this homeless woman, who had nothing, had everything to give. I wanted to fill her pockets, she wanted to fill my heart. This day, this woman, gave to me more that I could ever give to her. I realized that I was the one that was lacking, and this woman who had nothing had everything.
The Lord, in His own gentle way, showed me to be a woman of virtue is worth more than all the gold that money can buy.

[ Dosis Ministries ] [ Prayer ] [ Living Testimonies ] [ Daily Devotional ] [ His Body ] [ In His Service ] [ Special Projects ] [ Links ] [ Photo Albums ] [ About Dosis Ministries ]